Newsletter/Blog
2014-10-03
First female SA dealer
A first for women: Manitou's first female SA dealer
Caroline Wiborg, managing director of Maniload in Cape Town, has no problem 'strutting her stuff' when it comes to the world of heavy machinery. Appointed as the new Western Cape dealer for Manitou SA, Caroline is the first female to own and run a Manitou dealership in South Africa.
What was her inspiration to start Maniload? "I believed in the Manitou brand and saw the opportunity to open my own business as one of the dealerships in the Western Cape. We at Maniload are here to offer the clients in the Western Cape a committed service," she says.
When asked how she feels about competing in a predominantly male industry, Caroline replied, "I have always been a go-getter with a positive attitude towards life. Being a female in this industry is not something I have to cope with or overcome. My aim is to make a success of this dealership and whatever challenges comes with that."
Maniload offers the full range of Manitou and Gehl machinery and serves the entire Western Cape province with a well-armed staff of 6.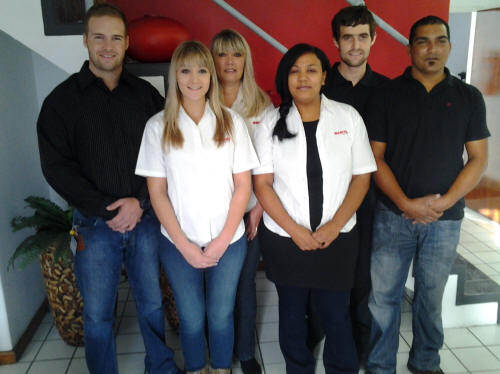 From left to right: Megan Wiborg, Caroline Wiborg and Ursula Cloete
Material handling equipment from Manitou is available throughout South Africa, including: Gauteng, KwaZulu-Natal, Free State, North West Province, Mpumalanga, Northern, Western Cape and Eastern Cape
Manitou also has dealers in Africa, including: Namibia, Mozambique, Zambia, Botswana, Zimbabwe, Ethiopia, Malawi and Kenya.