Newsletter/Blog
2014-10-03
Manitrax Tow Tractor
The ManiTrax Tow Tractor, the latest innovation in trackless mining equipment, is a brand new mining utility vehicle designed for hauling, towing and transporting. Used for transporting equipment, tools, skids, tanks and people, its operator's cab is positioned in the forward carriage for maximum visibility. In addition, process enhancing applications mean increased flexibility as the ManiTrax Tow Tractor has a wide range of modifications, such as the 1.5 ton crane, for example, which can enhance ManiTrax's loading and unloading functions.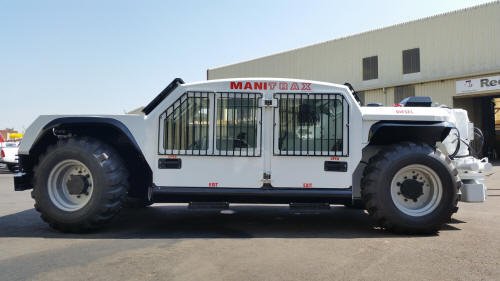 ManiTrax Tow Tractor advantages
Flameproof modifications designed to prevent coal dust igniting
Full 4-wheel and Crab-Steering functionality allows for maximum manoeuvrability
Wide scope for modifications means less standalone equipment
Exceptional hauling capability with increased capacity reduces costs
Manitou Southern Africa is one of the few material handling suppliers in South Africa that is able to customise its equipment for African mining environments, including underground mining equipment. We have become the hub of innovative product development, with innovations designed to meet the demands of African mining.
Service and support for ManiTrax Tow Tractors
Manitou supports its ManiTrax nationally with a world-class service and support network. Manitou helps ensure peak operation and maximum productivity with the help of ManiTrax maintenance teams that are on stand-by 24/7, 365 days a year.
Manitrax Tow Tractors from Manitou also benefit from 95% parts availability - guaranteed!
Dedicated ManiTrax service centres are located in Durban, Cape Town and Johannesburg, while serviced areas include the Vaal Triangle, Eastern Cape, Mpumalanga, KwaZulu-Natal, North West Province and the Free State, as well as the rest of South Africa. Service also available in Africa.
Material handling equipment from Manitou is available throughout South Africa, including: Gauteng, KwaZulu-Natal, Free State, North West Province, Mpumalanga, Northern, Western Cape and Eastern Cape
Manitou also has dealers in Africa, including: Namibia, Mozambique, Zambia, Botswana, Zimbabwe, Ethiopia, Malawi and Kenya.